What a rollercoaster year it's been for our investing portfolio, huh?
What began as a year where weed stocks such as Canopy Growth, Tilray, and Aphria exploded in popularity and probably made a few people lots of money if they timed it right, now has leveled out into a less optimistic landscape.
The first reason for that initial bump was a Democrat entering the Oval Office. There were was expectation that federal legalization would be around the corner, and the now famous subreddit r/Wallstreetbets brought their army to the bandwagon coming off of their GME high.
But with the slow realization that marijuana legalization wasn't just a switch that could be flipped and as soon r/WSB jumped shipped, most weed stocks tanked from their ridiculously unreasonable highs.
So now that the dust has settled, where do things stand?
Still in a better spot than last year, turns out, and in a pretty good position for those day traders, if they know when to get in and out. As soon as anything happens about marijuana's federal prohibition, these stocks will have another (albeit probably shortsighted) jump.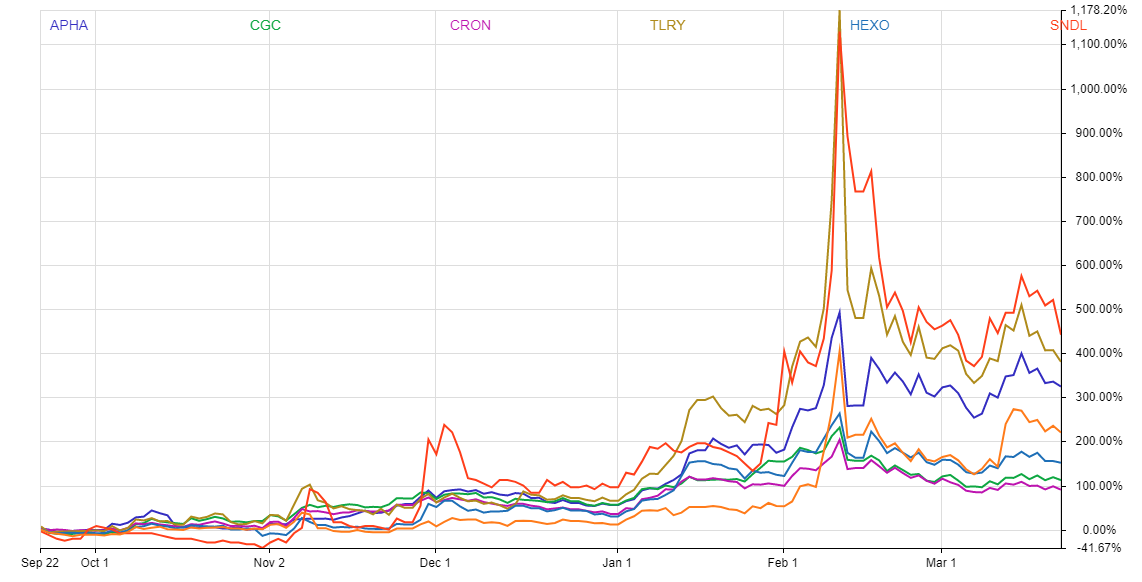 Investor Place has a write-up on the 7 stocks that will surely gain a bit during legalization. These are the ones listed:
Aphria (NASDAQ:APHA)
Canopy Growth (NASDAQ:CGC)
Cronos Group (NASDAQ:CRON)
Tilray (NASDAQ:TLRY)
Hexo (NYSE:HEXO)
Sundial Growers (NASDAQ:SNDL)
Organigram (NASDAQ:OGI)
However, the article describes a much less optimistic outlook on all of these if taken in the long term. This mainly comes down to an overvaluation. For instance, Cronos Group's gross loss keeps increasing and was at $20.5 million for 2020. Investor Place is betting most, if not all, of these stocks will continue a slow slide.
So the light at the end of the tunnel is legalization. We know it will come eventually, the question is when that is, because without it, there isn't much 2021 growth to sustain the highs of these stocks.
Read the details at Investor Place.
Visits: 318